Albardinal Botanical Garden
---
The garden is located in lands of the Public Property of Rodalquilar, in the locality of the same name, municipal term of Níjar, within the Natural Park of Cabo de Gata-Nijar; in the suroriental end from Almeria to 40 km of the capital or to 20 km of Níjar.

Objectives of the Garden in the Network The objectives to fulfill by the Botanical garden the Albardinal within the Network of Botanical Gardens are: – Representation of the flora of the Almeria sector. – Conservation of the amenzada and endemic flora of the Almeria sector. – environmental Education. – public Use.

The garden The garden receives its name of a very frequent plant in all the surroundings, albardín, exceptionally adapted to the dryness and the presence of certain concentrations of salts in the ground. Next to esparto Andalusian has been used tradicionalemte by the inhabitants of good part of the semi-arid Southeastern.
In the Albardinal we will find a representation of the main plant formations, both in the lowlands of the province of Almería and in its coastal lands, grouping by sectors as follows:

Serial vegetation: Represents the exclusive plant formations of the semi-arid areas of the Iberian Peninsula.

Azonal Vegetation: It develops when the conditions of drought, soil, salinity. They also dominate the environmental conditions of the place.

Traditional crops: They are the result of the intense activity developed by man who, in addition, has taken advantage of what nature offered them.

Palms, cacti and crassulaceae: There is also an exhibition of species native to other parts of the world, adapted to live in conditions of extreme aridity.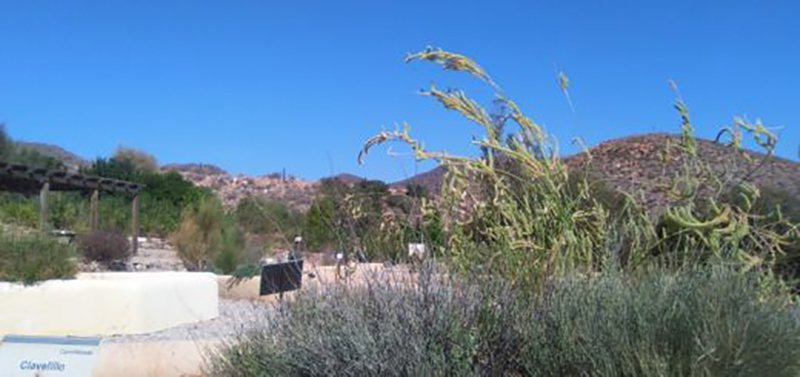 PHOTOS IN BOTANICAL GARDEN EL ALBARDINAL
---
---
Cabo de Gata Natural Park is a first-class protection place.If you navigate through these pages do not forget that the information you can obtain here, should be used with sensitivity.


Although we try to select the services that they are promoted here, we can not be held responsible if any of them presents any type of deficiency during your stay.

If you have any tourist service or Lodging in Cabo de Gata Natural Park, you can contact us and announce it in this informative guide.

---