Cortijo del Fraile
---
Although it is in a state of decline despite its more than proven importance in the world of ethnological culture, this place is a visit of great interest in the Natural Park Cabo de Gata-Níjar.
Access:
The farmhouse is accessed by the ALP-824 road or Ctra.de Rodalquilar, unpaved section that joins the end of the Albaricoques and Rodalquilar neighborhoods. The path is limited by agave lines on both sides.


The farmhouse was built by the friars of the Convent of Santo Domingo de Almería in the 18th century as the center of an important agricultural farm with olive trees and vines.
The place is declared a Property of Cultural Interest with the typology of Historic Site. It is located in the middle of a farm on which other smaller farmhouses depended.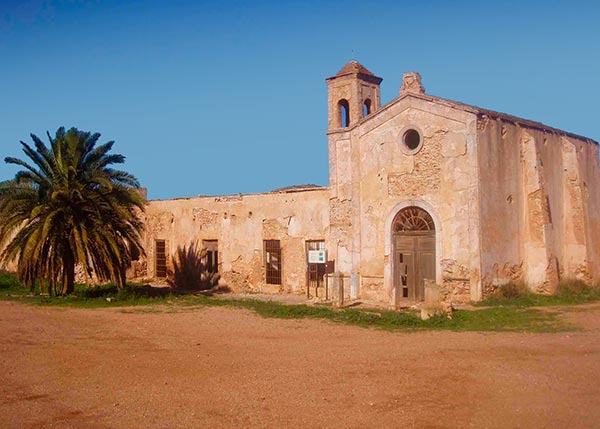 The building responds to the typology of large agropastoral exploitation, where almost all the dependencies, housing, leisure and agricultural and livestock, are developed on one floor and around a large central courtyard-yard giving rise to a complex construction. On the main facade, with large openings and regular distribution, the chapel, the sharecroppers 'houses, the owners' house and the stables are aligned.
His architectural appearance and the work of Federico García Lorca inspired by it (Wedding of blood), evoke the memory of traditional rural culture where class and gender values, prestige and honor were concentrated through marriage with equals.
At the moment it is in a state of total ruinness motivated mainly by the lack of economic agreements between owners and competent administration, although some rehabilitation works are already being undertaken .
---
---
Cabo de Gata Natural Park is a first-class protection place.If you navigate through these pages do not forget that the information you can obtain here, should be used with sensitivity.


Although we try to select the services that they are promoted here, we can not be held responsible if any of them presents any type of deficiency during your stay.

If you have any tourist service or Lodging in Cabo de Gata Natural Park, you can contact us and announce it in this informative guide.

---