CAMPSITES IN CABO DE GATA
If you are looking for a campsite in Cabo de Gata, we have at your disposal a relationship of campsites in the Natural Park. You can choose between campsites next to the beach, campsites with bungalows, with restaurant and swimming pool. If you are coming by van or caravan you can also opt for exclusively adapted camping. Enjoy the proposal offered by the campsites we promote.
---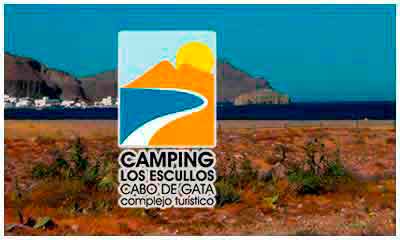 Los Escullos touristic complex
Camping in Cabo de gata. 1st category Camping tourist complex, very close to the Arco beach and open all year. It has several plots, bungalows and bengalies. Ideal for camper, caravans and of course, motorhomes. It has a magnificent pool. Something more than a campsite in Cabo de Gata.
More information
---
Book Now
---
---
---
Cabo de Gata Natural Park is a first-class protection place.If you navigate through these pages do not forget that the information you can obtain here, should be used with sensitivity.


Although we try to select the services that they are promoted here, we can not be held responsible if any of them presents any type of deficiency during your stay.

If you have any tourist service or Lodging in Cabo de Gata Natural Park, you can contact us and announce it in this informative guide.

---